Eclipse 384: It's the best interface I've used.
This is all I've got now; I used to have racks of stuff. I record vocals, guitar and bass into an Apple MacBook Pro through a signal chain comprising little more than the Antelope Eclipse 384, an API Channel Strip and a Shure microphone.  It's basically my studio all in one box. It's the best interface I've used. I love that everything is right there.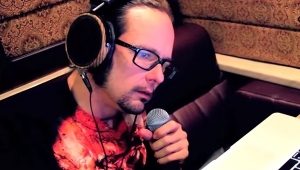 "Con l'uso di apparecchiature di produzione audio di alta qualità, come ad esempio Antelope Eclipse 384, sono in grado di produrre un "successo "pronto ad essere pubblicato proprio qui dall'autobus o dalla stanza d'albergo. Eclipse è essenziale, mi dà tutto ciò di cui ho bisogno per lavorare durante i miei viaggi e non solo per fare unicamente una demo. Quello che faccio mentre viaggio è semplicemente salvare il mio lavoro se mi piace, di conseguenza, non c'è bisogno di tornare a registrare nulla dopo.
I Korn hanno rivoluzionato il mondo del "nu metal" alla fine del 2011, quando la band di Los Angeles ha pubblicato il suo decimo album in studio, "Path of Totality" con grandi collaborazioni con i produttori di dubstep, tra i quali il vincitore del premio Grammy, Skrillex. Adesso il cantante dei Korn, Jonathan Davis sta puntando sul "dubstep americano, il nuovo heavy metal elettronico", attraverso un progetto parallelo, Killbot, e un progetto solista con il suo nome da DJ, J Devil.
Davis, che ha rispolverato il suo giradischi circa tre anni fa e si è già esibito in dei dj set sotto lo pseudonimo J Devil, è un fan di musica elettronica dance (EDM)da tanto tempo, e ha prodotto remix con influenze dubstep per artisti nu metal per diversi anni. Davis ha iniziato a creare EDM dal portatile solo "per divertimento", ma ora ha collaborato con i produttori di dubstep nonché colleghi di metal Sluggo e Tyler blu per formare Killbot, una collaborazione di "metalstep" che ha firmato con la casa discografica Dim Mak, fondata da Steve Aoki e ha annunciato l'intenzione di rilasciare un EP di quattro tracce. Esiste anche un EP da solista di J Devil.