La qualità del suono Orion32 è incredibile! Ho messo in vendita i miei vecchi convertitori su eBay senza pensarci due volte.
Le mie interfacce audio precedenti facevano parte di un sistema "rigido" di hardware e software che non soddisfaceva più le mie esigenze. Ero molto stanco dei costosi aggiornamenti e dello scarso supporto. Volevo allargare entrambi gli orizzonti, sia hardware che software. Sono incappato nell'Orion 32 perché aveva connessioni D-Sub in entrata ed uscita; la doppia entrata ed uscita ADAT che uso per le mie configurazioni per sintetizzatore modulare; ed il famoso clock Antelope, oltre al fatto che è in grado di trasmettere 32 canali via USB. Tutto questo è fantastico. Ho velocemente acquistato due unità Orion 32 ed ho aggiunto due schede MADI per consentire l'accesso completo a 64 canali di I/O.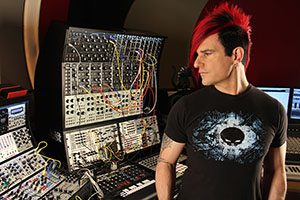 "Gestisco ogni aspetto della produzione, dal monitoraggio a missaggio e masterizzazione. Orion32 fa la differenza in ogni fase del processo, consentendo un ampio flusso di lavoro e dei risultati ottimali. Orion è ideale per il monitoraggio, è molto sensibile e suona bene, sempre, la latenza è molto bassa. Uso le entrate Orion per tutto, dalle chitarre e gli strumenti a corde fino ai sintetizzatori. Sono solo nella band, quindi avere 64 canali I/O è bellissimo perché posso ottenere tutto, dalle chitarre ai sintetizzatori collegati, pronti ad iniziare in qualsiasi momento. Lascio anche alcuni canali alla configurazione di Orion per inserire le mie apparecchiature esterne, il che mi permette d'incorporare facilmente un plugin nella mia DAW.

Sovraccaricavo le tracce con troppi elementi, e questo spesso si tramutava in un grande sforzo per rendere il tutto organico e armonico. Alla fine ho scoperto che non stavo lottando contro l'interfaccia per cercare di ottenere una nitidezza top-end e low-end , che era un miglioramento rispetto ad altre piattaforme che avevo già utilizzato. È fantastico inoltre il fatto di poter operare con qualsiasi software mi capiti a tiro tramite i 64 canali completi di I/O di alta qualità dei miei Orion".
Celldweller is a Detroit, Michigan-based musical project created by multi-instrumentalist artist, producer, songwriter, performer, programmer, and remixer Klayton. Klayton creates a hybrid fusion of digital and organic elements: intricately designed soundscapes that take cues from electronic genres like drum and bass, electro, and dubstep, woven together with aggressive rock/metal and orchestral elements. Celldweller songs have been featured in many films, movie trailers, television shows and video games. Known worldwide for pioneering new sounds and methods for creating his tracks, his music has been heard by millions between internet play and his placements in Film, TV, and Video Games. Among his TV and movie credits are productions such as: A Good Day To Die Hard, Mission: Impossible – Ghost Protocol, Battleship, Iron Man, Spider-Man 2 and 3, CSI, Mr & Mrs Smith.